On October 17, 2005, Double Trouble and Little Miss Munchkin were hatched. They are gorgeous Pekins, a male and female pair. While Trouble and Munchkin were still growing I created a record called the Duckling Diary. You'll find lots of pictures and details of their first days on Earth.



Just 2 days old


Trouble and Mischief will never be forgotten
Trouble and Mischief were the original ducks that made Live Ducks famous. Trouble and his original mate Bruiser hatched on 6-15-98. After Bruiser's life was cut short due to egg binding, Mischief, as an adult, came into his life a few weeks later. Trouble was a perky Pekin drake (male), Mischief was a beautiful black Indian Runner hen (female) until her passing in December, 2004 and Trouble's passing in February 2005.




More about Trouble and Mischief

Trouble was named for all of the scrapes he got into as a duckling. Trouble had the typical "in your face" Pekin personality. He loved attention and was a constant source of entertainment. Mischief came to us as an adult, she was "verbally outgoing", but otherwise shy and kept her distance. She developed more personality as she grew older and became increasingly secure in her surroundings.

This is a good example of why people prefer to buy day-old ducks, because they tend to form much closer bonds when constant human contact is available from the beginning of their lives.

Trouble, the duck was featured on Pet of the Day, a website dedicated to incredible pets - like yours!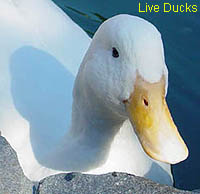 Live Ducks began as a fun way to share our backyard webcam with family and friends. As the need for pet care information minus preparation and cooking instructions came to the forefront, the website evolved into the premier resource for duck care and information you see today.

When we lost Bruiser, we didn't know what egg binding was, or what protein levels domestic ducks needs to live a long and happy life. There was almost no information other than a few pictures on the Internet back then. My goal was to change that using my web design knowledge and knack for research. Along the way, many people were inspired to create their own duck care websites. People who once thought they were oddballs or laughed at for having ducks as pets now realize they are part of a much bigger community than any of us ever imagined.

One of the best things I've experienced is watching the "webbed" community grow, with better and more comprehensive care information resources popping up all the time. I've encouraged people to take any information they want from my website, rewrite it, use it and distribute it. It's all about getting people to raise their awareness and take better care of their ducks. With our Facebook group we are more accessible than ever to the best information available - namely the wealth of advice duck owners can give each other and to those new to duck ownership.


The World Famous Duck Cam
The Duck Cam was one of the first of its kind on the planet, now serving more than 500,000 worldwide visitors annually. At one time we were reportedly the #1 webcam in France and #5 overall in Europe and have been written about in countless newspapers, websites, weblogs and chat rooms. One write up crashed my servers and we were forced to upgrade our equipment to handle the surge in web traffic. The Live Ducks Duck Cam is alot of fun, and it brings people to the website where they can expand their knowledge and understanding about important domestic duck issues.

Live Ducks has gone through many changes and has improved a great deal over the years, but my work is far from done. My next project is to create an anatomy page where you can see how a duck's digestive system works. This will illustrate why feeding the right foods is critical to their health.

With your moral and finacial support we are able to continue our mission to:
• Learn
• Grow
• Educate
• Entertain

My goals have always been to continue to upgrade the information this website provides as my knowledge grows. Continued research is necessary to continue to make this the most complete care resource available on the Internet. The information on my website is 100% free to everyone though donations are greatly appreciated.


You are watching the original Live Duck Cam, which uploads live images every 2 seconds, 24 hours a day. It is presently filming in beautiful Pennsylvania, at location we were asked to keep confidential. Our dear ducky friend who we originally met through this website graciously accepted the challenge to continue forward by hosting the Duck Cam. Diane takes great care in making the Duck Cam as interesting and exciting as it can be, and in fact, with so much action, and the fact that she changes the camera locations to follow the ducks throughout the day, I believe it's the best it's ever been!

We owe a great deal of thanks to Diane and her husband Davey for all the work they do to keep the Duck Cam on the Web.



Who are the Nuts Behind the Website?
We are Lori and Greg Goodman, your dedicated duck enthusiasts behind the scenes. We try to make the website entertaining so you will return again and again and tell others about us. We strive to provide current,accurate information. The more people who become aware that much of what we were brought up to think was OK isn't (like feeding bread to ducks), the brighter the future for all ducks in our care will be.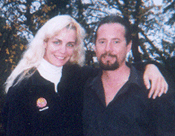 I donate as much spare time as I can to research, build and maintain the Live Ducks website. I continue to answer email and research questions that aren't covered on the website, however since my lifestyle has changed dramatically I do not spend as much time on the computer.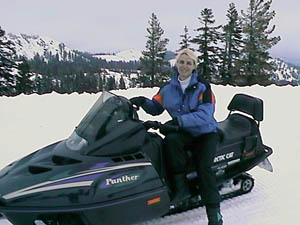 Personal Stuff About us Humans
In 2011 we left Los Angeles and moved to our dream property in Montana mountain wilderness where we continue to enjoy the great outdoors, camping, skiing, fishing, climbing, hiking, 4-wheeling, boating.

At home we love spending as much time outdoors as possible and with family including my two grown kids Cameron and Candice and Killer the Pomeranian.

I'm an artist and designer of everything from landscaping, signs, newspaper ads, business office layouts, interior design, websites, logos, whatever we need to have done. It's been alot of fun rediscovering "hands on" art. We've recently begun making log furniture using resources on our land and inspiration from nature.

Greg is an avid fisherman and loves to take commercial boats to catch big game fish or cast a line in one of the many local lakes. We scaled back and now own a "Porta-bote" that can be stored in our garage and launched just about anywhere. That boat is absolutely amazing, we've had it in very high winds and chop with no problem. It's practically unsinkable and used for search and rescue, so that makes me happy.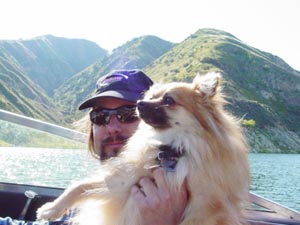 Greg and I have been a happy couple since 1997 and were married in January 2004 in Lake Tahoe, California overlooking the lake and the snow covered forest with our families and a few close friends. Life is great and we're thoroughly enjoying our journey through the many twists and turns of life together. Our lives have been blessed with struggle, hard work and setbacks, but who doesn't have those (and isn't that what makes life so much more interesting?).

Well, that's me...and enough about me! Let's get back to why you're here - your ducks and how to give them the best life possible. Everything you need to know is right here on this website. I hope you enjoy it!

:>


Donations of any size are sincerely appreciated. If you can donate even just a dollar click here

Thank you very much for you support, and for helping make Live Ducks a highlight of my life!!
:>
- Lori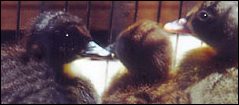 Copyright © Live Ducks All rights reserved