---

:::: Facebook now has a Live Ducks Discussion Group! We're a super friendly group of new and experienced duck owners, so come on over - we hope to see you there.
Join Live Ducks on Facebook.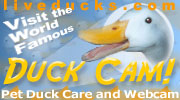 ---

:::: FowlBlog is an "Insights, News and Tips" forum for people who raise ducks, geese and waterfowl as pets. Go there now for farm fowl info.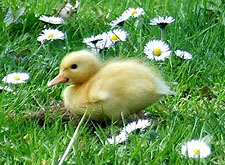 ---

:::: Pet Ducks R Us: "If you are interested in pet ducks, or have one or thinking of getting one this is the group to join. This is where you can share your knowledge, and learn something new."



Go there
---
Copyright © Live Ducks All rights reserved