by Lori Goodman




It's the classic story, pet stores sell thousands of live ducklings every year. Baby ducks are hard to resist, and pet stores know it. What happens to most ducklings once they're fully grown and not so cute and cuddly? Thousands tragically end up abandoned, dumped into local ponds, lakes and canals where they die from causes ranging from malnutrition to predatory attacks.

People have been led to believe that ducks are easy to care for and make great pets. Unless you are fully prepared, nothing could be further from the truth.

Before you buy, prepare yourself and your family




A duck can make a wonderful and interesting pet, if you are willing to take a minute to learn the facts. If you decide to buy a live duckling, be sure it is not an impulse purchase. Prepare yourself, your family and your new pet by reading our Duckling Care and take it to places where ducks are sold without care instructions.

• Encourage your Parks and Recreation Departments to post signs warning people about the dangers of dumping domestic waterfowl into wild ecosystems.

Do your part to make a duck's life safer, happier, better.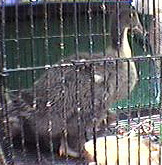 This duckling is 3 weeks old
and has outgrown her cage




We know you are reading this because you share our love for these creatures. We thank you for caring and encourage you to educate others.

There are hundreds of news articles, webpages, and warnings about the growing animal cruelty problems caused by good-hearted people making uneducated choices. Here are my top picks:

• CDC: Why parents should think twice before giving baby birds for Easter
• Prevent Easter Cruelty to Animals
• Abandoned domestic ducks and geese left to fend for themselves
• Real Animals Don't Make Appropriate Easter Gifts
• CDC: Salmonella hadar Associated with Pet Ducklings




Copyright © Live Ducks All rights reserved