A picture's worth a thousand quacks. Here's a collection of duck photos, many taken by Liveducks.com fans like you! We're always on the lookout for new photos, so contact us if you'd like to show off your feathered family on our website.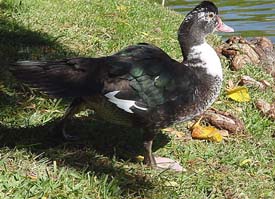 Look here, I'm beautiful!
Nick and Jennifer Lukehart, Dallas Texas, USA
On a sad note, the "Turkey Duck" passed away on April 7th in the evening, found by the couple who took this beautiful photograph.



Copyright © Live Ducks All rights reserved