A picture's worth a thousand quacks. Here's a collection of duck photos, many taken by Liveducks.com fans like you! We're always on the lookout for new photos, so contact us if you'd like to show off your feathered family on our website.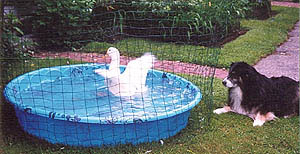 Camille loves showing off with T.J.
Mimi Alberu, Candia, New Hampshire, USA
Here's what Mimi has to say about Camille:
"Camille is our house duck. She hangs out with our dogs and cats and has her own pool. She now has a real fenced play yard (as opposed to the makeshift enclosure in the photo). One of her favorite games is untying shoelaces."



Copyright © Live Ducks All rights reserved