Here's a few Live Ducks favorites, the best online resources available for domestic duck care.




01 Duck Care, Information, Rehabbers


02 Incubating, Candling and Hatching


03 Duck Breeds and Photographs


04 Associations and Organizations


05 Links We Like - Just for Fun


06 Link your website to Live Ducks
• Banners for your website


Duck Care in a Nutshell
Everything you need to know to properly care for domestic ducks and ducklings.

Raising Ducks
A wonderful website for raising ducks from the first day, the website includes helpful photos.
Injured and Abandoned Bird Care
Did you know that imprinted birds, domestic AND wild ducks cannot safely be released to the wild? For anyone who needs a wildlife rehabber, this site provides a good resource.





STOP!!! Read this first
Before you jump in and order a bunch of duck eggs to hatch for yourself or your classroom, you need to be aware that domestic ducks, like the ones typically hatched are NOT the same as wild ducks. Dumping ANY duck, domestic or wild that has lived in the care of humans is an act of cruelty.

Only hatch what you intend to care for. Finding homes for ducks is almost impossible and remember, ducks have a lifespan of 10-15 years.

Read my article "Are you Ready for a Duck?" before you attempt to hatch any eggs.

After you've read my article and are prepared to hatch some ducklings...
Here is a list of my favorite links to duck hatching information and where to find duck eggs. I've added a page for people who have ducks that are nesting and need some quick advice.

Incubate, Candle and Hatch (oh my!)
Mink Hollow Farm has a nicely written webpage covering everything from hatching, candling and building a brooder to caring for your adorable ducklings when they arrive.

Handy Hints for Raising Ducklings
For anyone incubating and hatching eggs themselves this is a must see webpage. It starts off with excellent hints for properly incubating the eggs. Then, for a real treat, visit Diary of a Duckling, which chronicles the first 100 days of a duckling's life in vivid detail.
Hatching Duck Eggs
Nice informational website includes how to hatch your own ducklings using an incubator.

Looking for eggs to hatch? Here's a couple of places that sell them, check with them for instructions and details.
• California Hatchery sells eggs as well as live ducks anywhere in the US and has information about duck care on their "Duck News" page. I like their "Safe Arrival Guarantee".
• Murray McMurray Hatchery ships in the US and other countries. Great informational website.
• Duck Eggs.com sells eggs for eating or hatching.
• Pinewood Poultry Farm

Limited Poultry has resources including chatrooms for primarily chicken owners, but also includes ducks, turkeys and other fowl.

Is your own duck nesting and you need some advice?
Here's a simple, practical nesting advice page based on my own experience and research.

Live Ducks does not have information on wild duck nesting habits, please check with people that handle those issues for information. We are a domestic duck care website.





Jan's Ornamental Waterfowl Pages
Incredible selection of duck breeds with photos, and duck data, including many ducklings.
Rare Birds of the World
One of the nicest collections of duck photos we've seen on the Web.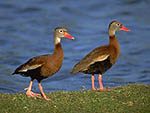 Pet Duck & Goose Association
Links to bulletin boards, and a few resources for Pet Duck owners.

International Bird Rescue Research Center
Provides services for abandoned and injured birds, see their website for details and locations.





New York Wild's Squirrel Cam shows live squirrels in their nest, updates every 3 seconds and includes sound.




Webmasters, why not add a little Trouble to your life . . . and to your website.

Copy a banner image and the source code or contact us if you need help. Custom banners and background colors to match your website are available upon request.

See who's linked to us now!



65 x 100



65 x 100



65 x 100



65 x 100



65 x 100



65 x 100



60 x 120


60 x 120



60 x 120


40 x 80



40 x 80

The above banners are yours to use without prior permission as long as you
1. Upload the image to your server
2. Provide a link from that image to our website's index.html page
3. Do not hotlink or direct link any image on our website other than these buttons and banners


Copyright © Live Ducks All rights reserved